Senator won't lobby – Does that make it all rainbows and unicorns?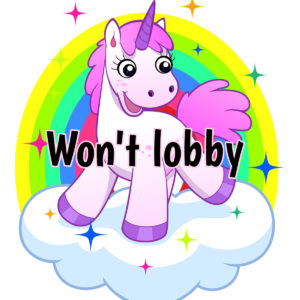 Winrock International announced that Senator David Sanders won't lobby other legislators on behalf of Winrock or the Innovate Arkansas program which he was hired to direct. Somehow this announcement is supposed to make Senator Sanders' state funded job look all rainbows and unicorns.
Wrong.  Sanders' situation is still that of a pig at the public feed trough.
If you are not familiar with the Sanders story here it is in a nutshell.  Governor Asa Hutchinson announced Senator David Sanders had been hired by Winrock International (a private nonprofit corporation) to be the director of Innovate Arkansas which is supposed to help startup tech companies. Why was the Governor announcing it?  Because it is a state program.  Innovate Arkansas is funded by the state of Arkansas.  Winrock "administers" the program from funds sent to it from the Arkansas Economic Development Commission.
With the money coming from the state, do you think Winrock would buck Governor Hutchinson when he wants to reward one of his cronies with a job administering the funds?
Winrock saying Senator Sanders won't lobby other legislators on behalf of Winrock or Innovate Arkansas means nothing. There is no reason for him to lobby the state, because their hiring of Sanders already put Winrock in good stead with the Governor.
For many years it had been a standard ploy for a legislator to supposedly justify a shady looking job by saying "My duties don't include lobbying." Sometimes it is a clause put in the legislator's contract. Sometimes it is just a public statement.  This does not mean the legislator will not promote his employer's interests (lobby other legislators).  It only means technically he is not receiving compensation for any lobbying he does.  Under current ethics rules, lobbying for an employer is not what gets a legislator in trouble… it is taking compensation to lobby. Winrock's statement is merely the standard cover a legislator wants to show his compensation does not include the duty to lobby.
Even if Senator Sanders were to stay silent and not vote on any items of interest to Winrock, there is still a huge stink from this setup.  Under Arkansas law, a legislator who takes a state job must resign from office. To sidestep this requirement, the Governor is using state money laundered through Winrock to give Senator Sanders a job.
What do you think this says about the ethics of the Governor and the Senator?