Politicians and the university lobbyist career path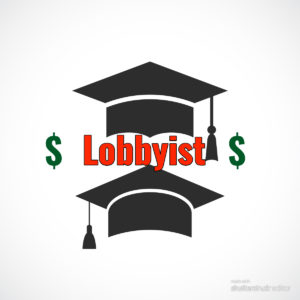 As one politician's career as a university lobbyist begins another politician's university lobbyist job ends.
Speaker of the House Jeremy Gillam (Speaker 2015-2018) resigned from the House of Representatives in June 2018 to become a lobbyist for the University of Central Arkansas.  The high paying job for Gillam looks like a political favor based on how he steered the House of Representatives over the last three- and one-half years. Gillam had been looking to cash in as a state employee after the demise of his farming business.
Gillam is not the only former Speaker of the House to take a university lobbying job. Former Speaker of the House Bill Stovall (Speaker 2005-2006) also became a lobbyist for colleges. He had a lobbyist position with the association of two-year state supported universities. When Stovall's term of office in the House of Representatives was over, he continued to hang around the capital, first as a paid advisor to the next Speaker and then as a regular employee of the House. As more Republicans were elected Stovall, a Democrat, landed a job as lobbyist for two-year universities. Stovall recently announced his retirement from the lobbying job, effective at the end of October.  The fact that his office access was immediately terminated makes it appear to be a forced retirement.
There seems to always be enough tuition money for hiring lobbyists.
What do you think.  Is there something special about being Speaker of the House that makes you especially qualified to be a high paid lobbyist for a state supported university?
By the way, Bill Stovall has joined a lobbying firm that includes …… former Speaker of the House Robbie Wills (Speaker 2009-2010). With Stovall and Wills working as registered lobbyists and Gillam working as a lobbyist for UCA that means three of the past six Speakers are working as lobbyists.
What about the other three Speakers? Speaker Benny Petrus (Speaker 2007-2008) remained in private business. Speaker Robert Moore (Speaker 2011-2012) was appointed in January 2013 by Governor Mike Beebe to a ten-year term as a Highway Commissioner. Speaker Davy Carter (Speaker 2013-2014) remains in the banking industry.