Political disaster and the Private Option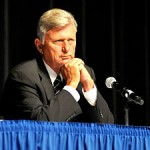 Governor Mike Beebe, who is the prime cheerleader for the Obamacare Private Option, claims it would be "politically disastrous" to opponents of the Obamacare program if they defund it.  He says they would face the "wrath of voters."
"It would be bad public policy in my opinion to do away with it and it would be politically disastrous for a lot of those people if they do away with it," Beebe said in an interview in his office at the state Capitol. "After all, they're political animals. They did run for office, and most of them do want to continue in office."[i]
Beebe made this claim at the end of his term of office. His claim is so contrary to what is happening in Arkansas that surely it was merely political posturing for the media in hopes to plant the idea in the minds of some legislators. If he really believes what he said, then he must not have paid any attention to the 2014 elections.  But wait, Beebe was involved in 2014 elections by touting the Private Option.  Yet, 2014 was a political disaster not for opponents but for supporters of the Private Option.  2016 promises to be even worse for Obamacare Private Option supporters now that conservatives have discovered that they can successfully challenge well-funded incumbents and potential supporters; and campaign workers now know that they can make a difference too.
Political disaster in 2014
January Special Election. Talk about a "political disaster" for former Governor Beebe, in the January 2014 special election to replace Democrat Senator Paul Bookout, Beebe appeared in a television ad for Steve Rockwell (D) and touted the Private Option.  Beebe hit all the right buttons for the Jonesboro area, including citing how the Private Option supposedly would help both Jonesboro hospitals and Arkansas State University.  Beebe's clout failed to help Rockwell at all in the once solid Democratic area.  The voters thumbed their noses at Beebe, Rockwell and the Private Option by electing Private Option opponent John Cooper as their new State Senator.
Republican Primary. The election of John Cooper in the special election was only the beginning of the political disaster to befall Private Option supporters.  Big government Republicans were next to feel the "wrath of voters" in the Republican Primary.  The heir apparent to succeed Senator Johnny Key in Senate District 17 was Representative John Burris. Burris had served three terms in the House, had been House Republican Leader in 2011-2012, and was the Chair of the House Committee on Public Health, Welfare and Labor.  Burris had a conservative record with the glaring exception of being a lead sponsor of the bill authorizing the Private Option. Burris faced political newcomer Scott Flippo who opposed the Private Option.  Despite Burris facing a political newcomer and being much better funded, the voters chose Flippo.
Also in the Republican Primary incumbent Senator Bruce Holland, a Private Option supporter, was defeated by Representative Terry Rice who had consistently voted against the Private Option.  Rice handily beat the incumbent.
General Election Legislative Races.  Many legislators who were Private Option supporters were driven out of office as a result of the November General Election as well. The two Senate candidates who supported the Private Option (where their opponents opposed it) lost.  Nine House incumbents who supported the Private Option were defeated. Another twenty Private Option opponents were elected as freshmen legislators. In the General Election, all incumbents who opposed the Private Option prevailed.
The two Senate races in the General Election deserve special mention.  Senate District 20 featured Democrat incumbent Senator Robert Thompson against Republican Blake Johnson.  Thompson supported the Private Option and Johnson did not.  Thompson had been mention by some as being the next face of Democratic leadership once Beebe left office.  Thompson seemed to be well liked in his district and had a big war chest.  Although underfunded, Blake Johnson, was able to contrast his values with Thompson's liberal votes including the Private Option.  The voters chose Blake Johnson.
In Senate District 19, Democrat Representative James McLean of Batesville made the race about his support of the Private Option.  He said he had voted for the Private Option several times and would keep on voting for it.  His opponent Linda Collins-Smith (R) of Pocahontas campaigned on repealing the Private Option. McLean used scare tactics saying that Collins-Smith would cripple the hospital in Batesville, close rural hospitals, and cancel the health insurance of thousands of "working families" on the Private Option.  How did the voters respond to McLean's pro Private Options stance?  Not only did he lose the race, he didn't even carry his home county.
In addition to the races where Private Option opponents won, there are some notable races because underfunded Private Option opponents did so well against incumbent Democrat supporters of the Private Option.  One race that must be mentioned is the House District 60 where incumbent James Ratliff (D) only managed to eke out a victory by 49 votes over Private Option opponent Blaine Davis. Ratliff barely won, despite being the heavily favored incumbent and facing a candidate who was woefully underfunded.
Congressional Delegation. Nowhere is it more evident how out of touch Private Option supporters are with the state than by looking at Arkansas' Congressional delegation.  Arkansas' two US Senators and four Congressmen are all working to end Obamacare.  And the Private Option does not exist without it because the Private Option is part of Obamacare. Congressman Bruce Westerman voted against the Private Option while in the state legislature, and he can be seen in a newspaper photo giving a thumbs down during one of the votes. Congressman French Hill said he opposes "any implementation of Obamacare in Arkansas, including the so-called 'private option'"[ii] Congressman Rick Crawford opposes the Private Option and wrote State legislators applauding them for voting against funding the program.[iii] US Senator Tom Cotton, an opponent of Obamacare, defeated incumbent Mark Pryor who voted for Obamacare and supported the Private Option. [iv]
Statewide races.  Gubernatorial candidate Mike Ross declared his support of the Private Option. While Asa Hutchinson did not announce a position, Ross' support of the Private Option was a liability in his defeat by Asa Hutchinson. Tim Griffin who won the election for Lieutenant Governor is on record, while being a Congressman and member of the powerful Ways and Means Committee, as opposing the Private Option.[v] Dennis Milligan, who won the election for State Treasurer, made his opposition to the Private Option a part of his campaign.
2016 political disaster predicted by Beebe
It seems early to be talking about the 2016 elections, but soon to be former Governor Beebe brought up the subject.  Based on the 2014 elections which brought more Private Option opponents to office and energized conservatives, a potential political disaster looms–but it appears to be for liberals and big government Republicans.
There is already is a buzz going on among conservatives about the 2016 elections. Some conservatives have already stated their intent to run against Democrats, and others have begun discussing the possibility of running in the Republican primary against a big government Republican.
Some State Senators who had infuriated conservatives in their districts were not up for reelection in 2014.  In addition a number of incumbent legislators were protected from facing opposition because of the notion that incumbents would be too strong and well-funded or because Republicans just couldn't win in certain parts of the state. The notion that money rules over principle was dramatically disproved in a number of legislative and statewide races. It was also shown that even in northeast Arkansas conservatives can win.
So what do you think?  Is 2016 already shaping up as a political disaster for one side or the other on the Private Option debate?  If so, which side
[i] http://www.arkansasbusiness.com/article/102633/mike-beebe-sees-path-forward-for-medicaid-plan
[ii] http://www.arktimes.com/ArkansasBlog/archives/2014/02/19/the-silence-of-the-republican-candidates-where-do-french-hill-and-asa-hutchinson-stand-on-private-option
[iii] http://talkbusiness.net/2013/04/griffin-crawford-enter-private-option-expansion-debate/
[iv] http://www.arkansasonline.com/news/2014/oct/15/themes-familiar-in-2-s-last-debate-2014/
[v] https://www.conduitforaction.org/congressman-tim-griffin-on-the-private-option/