In Defense of Governor Asa Hutchinson (NOT)
A sarcastic title can be missed by potential readers. That is why we are reposting this article with the word "NOT" added at the end of the title.  As a conservative, you need to know about Governor Asa Hutchinson's liberal big government record.  We hope you will read and be informed.
---
In Defense of Governor Asa Hutchinson (NOT)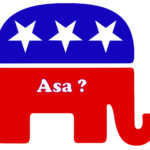 People keep saying, "Asa [Governor Hutchinson] is not a real Republican." If you are a Republican and use Facebook or other social media you probably have seen people posting such comments. You may have heard similar comments in private conversations.
Despite Conduit For Action's disagreements with our governor, we think it is necessary to stand up in his defense (NOT).
To explain, we will identify some of the areas that gave rise to the assertions. After listing some, we will explain why they are wrong in saying he is not a real Republican.
Some Fiscal Conservatives claim Asa is "not a real Republican" for positions such as:
Tax increases. The Governor opposed giving an income break on military retirement pay unless the bill included increased taxes on the rest of the state to offset any reduced tax collection. The bill he supported and helped pass included a military retirement pay exemption and a tax break for soft drink manufacturers, while imposing more tax on us which not only makes up for the tax breaks but also increase taxes by a projected $5.9 million dollars annually.
More tax increases. The Governor signed into law a special tax increase on new tires and a new special tax on used tires to fund growing government to monitor tires from initial sale through disposal.
More taxes demanded. The Arkansas House of Representatives rejected a sales tax on the internet and higher gas and diesel taxes. Governor Hutchinson vowed to fight on in his support of the taxes.
Revenue problem not a spending problem. In having to make some cuts in his increased budget for the 2016-2017 fiscal year, the Governor claimed it was a revenue problem not a spending problem.
Awarding contract to the highest bidder. Despite recent state money problems, an ever-increasing state budget, and legislative opposition, Governor Hutchinson awarded a three-year contract for information technology services for the DHS in the amount of $75.3 million instead of to the contractor bidding $54.4 million.
Money giveaway to private colleges. Despite months of public criticism over individual legislators giving state General Improvement Funds to a private colleges and after the Governor had to cut his overly optimistic general revenue budget, the Governor gave $150,000 in emergency funds to three private colleges in Pulaski County: Arkansas Baptist College, Philander Smith College, and Shorter College.
Picking winners and losers. The Governor continues to pick winners and losers by giving away state funds to private businesses ranging from a Taekwondo center to a steel mill seeking to become a competitor to an existing Arkansas steel mill, etc.
Governor Hutchinson supported continued authority for the two parts of Obamacare that needed state action – Obamacare Medicaid Expansion and authority for a state run Obamacare Exchange. He calls his Obamacare Medicaid Expansion by the name "Arkansas Works."
More Obamacare. Governor Hutchinson criticized congressional efforts to repeal and replace Obamacare, wanting to keep much of it.
Some social conservatives claim Asa is "not a real Republican" for positions such as:
Religious freedom. In 2015 Governor Hutchinson stopped a Religious Freedom bill that had passed both houses. He didn't want to go on record as vetoing the Religious Freedom bill, so he demanded the bill be recalled and another bill be drafted. The weaker bill quickly passed. Many of the cosponsors of the first bill were offended and refused to sponsor the weaker bill and didn't vote for the weaker bill.
Sharia law. The governor didn't sign HB1941 of 2017 (Act 980) to prohibit the use of Sharia law in Arkansas courts. It became law without his signature.
Sanctuary campuses. The Governor opposed HB1042 of 2017 to prohibit the creation of sanctuary college campuses in Arkansas. The bill did not pass.
Bathrooms. The Governor opposed SB744 of 2017 which would have limited bathrooms in schools and other buildings to one sex. The bill did not pass.
Some defenders of the Second Amendment say Asa is "not a real Republican" citing the: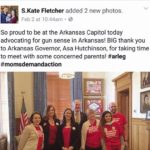 Photo op with gun control advocates during gun debate. During the 2017 debate over handgun legislation, Governor Hutchinson rubbed salt in the wounds of Second Amendment supporters by making sure to meet with and have a big photo op with Moms Demand Action who advocated for gun restrictions.
Some Republican faithful who want to reelect solid conservative legislators claim Asa is "not a real Republican" for:
Campaigning against Republicans who follow the party platform. The Governor injected himself into a Republican primary race in 2016 by trying to unseat Republican Representative Josh Miller who is too conservative for the Governor. Asa endorsed the challenger and made the maximum contribution to the challenger though the Governor's Political Action Committee (PAC). With the Governor's influence, the challenger was well funded but the Republican voters said "NO" to the Governor and re-nominated Representative Miller.  Looks like 2018 will bring more of the same attacks with fiscally conservative Republican Senators in the Governor's crosshairs.
Using bogus budget numbers aimed at hurting fiscally conservative Republican legislators. In 2016 his administration used bogus budget numbers and ridiculous doom and gloom claims of pending budget cuts if some Republican Senators continued to refuse to break their promise to voters to oppose Obamacare Medicaid Expansion (which the Governor renamed "Arkansas Works"). The Governor's administration's bogus tactic led the Batesville Guard newspaper to embarrass itself by blindly accepting the ridiculous claims.
On and on it goes….
Conduit For Action defends Asa (NOT)
Although Conduit For Action disagrees with the Governor on a number of issues, we must also disagree with those who say Asa is "not a real Republican".
You see…
If a politician ignores the Republican Platform, it doesn't matter.
If a politician spends more time trying to please liberals than conservatives, it doesn't matter.
If a politician delights in talking to the MSNBC liberal audience, it doesn't matter.
Why doesn't it matter?
Because once the Republican Party accepts a candidate's filing fee the candidate is 100% Republican, even if a candidate's views happen to be contrary to the Republican platform.
Sad but true….and some say—that is why we have primaries.