You elect them but they ditch you for high paying state jobs
Updated 9/26/2016
When Arkansas legislators are sworn in, they take an oath of office.  Perhaps the oath should be revised to say: "I promise to faithfully execute the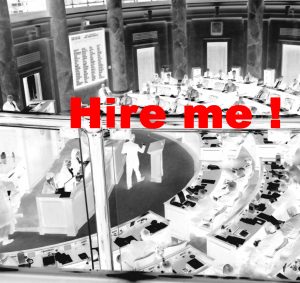 duties of my office … to the extent it does not interfere with me getting a sweet high paying state job."
Governor Asa Hutchinson is making a habit out of hiring state legislators for high paying state jobs. Even before Hutchinson, the University of Arkansas hired away a sitting legislator who resigned to take the UA job.
Obviously, legislators getting such jobs makes people wonder whether their legislator has been representing them or representing the Governor in order to enhance their prospects of a state job. It doesn't matter whether this is the case or not; it looks bad.
Legislative Vacancies
Instead of focusing on the ethics of these arrangements (or lack thereof), lets focus on the vacancies created when legislators take state jobs.
The Governor and legislators don't seem to mind that the people have no one to represent them while there is a vacancy.
How long have the vacancies been?
Show me the money!
Do you think the lure of big money state jobs might keep a legislator in line in order to gain the favor of the Governor?
| | | |
| --- | --- | --- |
| | Legislative Salary | State job salary |
| Johnny Key | $15,869 approx. | $130,000 (UA) |
| Michael Lameroux | $17,770 | $112,091 |
| Kelley Linck | $39,500 | $108,243 |
| Bill Gossage | $39,500 | $95,000 |
Don't worry. It is not a problem. – Oh really?
Defenders of these nice arrangements have already said: "Don't worry there won't be any legislative sessions for them to miss."
First, the attitude that "it doesn't matter" incorrectly assumes state legislators only represent their constituents during legislative sessions. This attitude ignores that:
Even between sessions a legislative committee can veto or approve state agency regulations.
Even between sessions legislators participate in discussions that affect state policy.
Many ideas for legislation and many legislative investigations are initiated when a legislator works with constituents between legislative sessions.
Pre-session budget hearings are held in October through December, and this is where most legislative recommendations for the state budget are made.
The Speaker of the House, Jeremy Gilliam, told the Independent Citizens Commission: "We no longer really exist as a part-time Legislature."[v]
Second, you don't know whether there will be a special session before the end of the year.  In less than two years as governor, Governor Hutchinson has already called three special sessions, in addition to having the 2015 Regular Session and 2016 Fiscal Session.
Third, when Senator Lameroux resigned, the people of Senate District 16 were not represented during the entire 2015 legislative session, in which 2,062 bills were considered and 1,289 new laws were passed.
Adding insult to injury
House District 82 won't have a Representative for the rest of the year. In addition, the people of House District 82 didn't get to vote on who will become their next Representative for 2017-2008. Two people filed to replace Gossage. Only Republicans could run and local party committee people made the decision.
**********
Speculation is already underway on which legislator will be next to get a high paying state job. Will it be your legislator?
---
End notes:
[i] http://www.arkansasonline.com/news/2014/jul/30/key-resigning-state-senate-ua-job/
http://www.arkansasonline.com/news/2014/jul/31/key-resigns-his-seat-in-arkansas-senate/
[ii] http://www.arkansasonline.com/news/2014/nov/11/lamoureux-quits-senate-to-work-with-hut/
http://www.arkansasonline.com/news/2015/apr/23/legislature-concludes-15-session-201504/
http://www.arkansasonline.com/news/2015/jul/18/aides-to-governor-assigned-new-jobs-201-1/
[iii] http://www.arkansasonline.com/news/2016/jun/07/lawmaker-quitting-to-be-dhs-1st-legisla/
[iv]  http://www.arkansasonline.com/news/2016/aug/30/arkansas-lawmaker-stepping-down-work-governor/
http://www.arkansasonline.com/news/2016/aug/31/two-seek-state-house-seat-after-lawmake-1/#/
[v] http://www.arkansasonline.com/news/2015/jan/09/legislating-not-a-part-time-job-gillam-/