Whopper of a deception – Radio Ad by Chris Steplock
Fact Check
Chris L. Steplock is making ridiculous claims about Representative Josh Miller's legislative record.  Both are running for the Republican nomination as House District 66 Representative. Miller is the incumbent.
Representative Miller has been the target of Obamacare supporters because he has constantly voted against Obamacare Medicaid Expansion, known in Arkansas as the "Private Option."
Despite Miller's clear record, Steplock's radio ad claims Miller is costing Arkansas millions by supporting Obamacare. Rep. Miller's legislative record shows the opposite of what Steplock claims.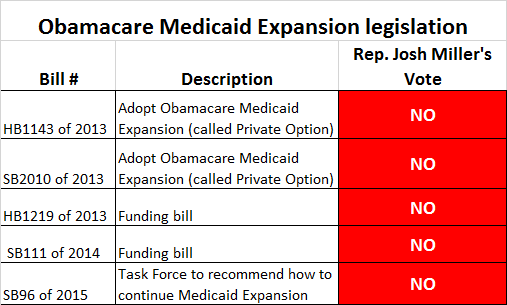 In addition, Representative Miller filed HB1262 of 2015 "TO TERMINATE THE MEDICAID EXPANSION PROGRAM COMMONLY KNOWN AS THE "PRIVATE OPTION"; TO TERMINATE ARKANSAS'S PARTICIPATION IN MEDICAID EXPANSION; AND TO REPEAL THE HEALTH CARE INDEPENDENCE ACT OF 2013."
The "Health Care Independence Act of 2013" is the official name of Arkansas' Obamacare Medicaid Expansion program.
Instead of making Arkansas pay for more Obamacare costs, Rep. Miller has been trying to stop Obamacare Medicaid Expansion. Arkansas' own consultants say Arkansas' share of the costs of the program will be $656 million over the next six years.
Now compare Representative Miller's legislative record to candidate Chris Steplock's outrageous radio AD.
 Will candidate Steplock come forward to retract this wild deception?