These Representatives voted to increase your Arkansas taxes – Senate action pending
Updated 6:27PM 1/30/2017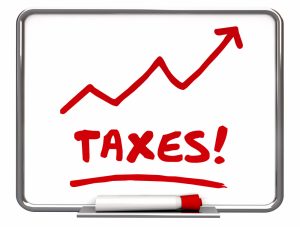 Today, the Arkansas House of Representatives voted to increase your taxes. Seventy-Five state Representatives voted for HB1162 which included THREE TAX INCREASES. The other 25 Representatives either voted against, voted present, or did not vote.
HB1162 increased taxes by:
Imposing Arkansas's sales tax on digital downloads. Digital downloads include items such as software and digital books, music, and movies.
Raising the sales taxes on soft drinks and candy.
Imposing income tax on unemployment compensation.
These taxes are to be imposed to give an income tax break for those veterans who receive military retirement.  A veteran gets NO benefit unless she or she stayed in the military long enough to retire.  Veterans who served but who do not get military retirement only get to pay the increased taxes.
The bill also gives a tax break to soft drink companies.
The bill also includes a provision concerning budget transfers to the Medicaid Trust fund.
Conduit for Action is on record as being for the bill if the taxes were removed from the bill.  Conduit for Action cannot support the tax increases.
These 75 Representative voted to increase your taxes through HB1162.
(Click on name for the Representative's information page)
Yeas: 75, F. Allen, Baltz, Barker, Beck, Blake, Boyd, Bragg, Branscum, Brown, Burch, Capp, Cavenaugh, Coleman, Collins, Cozart, Dalby, Davis, Dotson, D. Douglas, Drown, Eubanks, Farrer, D. Ferguson, K. Ferguson, Fielding, C. Fite, L. Fite, V. Flowers, Fortner, M.J. Gray, Hammer, Henderson, Hillman, M. Hodges, Holcomb, Hollowell, House, Jett, Johnson, Leding, Lemons, Love, Lowery, Lynch, Maddox, Magie, A. Mayberry, McElroy, G. McGill, McNair, Murdock, Nicks, Penzo, Petty, Pilkington, Pitsch, Richey, Rushing, Rye, Sabin, Shepherd, B. Smith, Sorvillo, Speaks, Sturch, Tosh, Tucker, Vaught, Walker, Wardlaw, Warren, Watson, D. Whitaker, J. Williams, Wing,
The following 25 state Representative did not support higher taxes.
Nays: 14 Ballinger, Bentley, Deffenbaugh, Della Rosa, Gates, M. Gray, K. Hendren, G. Hodges, McCollum, D. Meeks, S. Meeks, Miller, Payton, Sullivan
Non Voting: 3 E. Armstrong, Gazaway, Mr. Speaker
Present: 8 C. Douglas, Eaves, Gonzales, Jean, Ladyman, Lundstrum, Richmond, Womack
SENATE ACTION IMMEDIATELY PENDING
HB1162 now goes to the Arkansas Senate.  But the Senate has an identical bill, SB120 waiting to be voted on the Senate floor.  SB120 was approved by the Senate Revenue & Tax Committee and the next step is a vote by the full Senate.
Here is a list of the 35 state Senators. (Click on name for the Senator's information page)
Cecile Bledsoe,  Will Bond,  Ronald Caldwell,  Eddie Cheatham,  Linda Chesterfield,  Alan Clark,  Linda Collins-Smith,  John Cooper,  Jonathan Dismang,  Lance Eads,  Joyce Elliott,  Jane English,  Jake Files,  Scott Flippo,  Stephanie Flowers,  Trent Garner,  Jim Hendren,  Bart Hester,  Jimmy Hickey,  Jr,  Jeremy Hutchinson,  Keith Ingram,  Missy Irvin,  Blake Johnson,  Bryan King,  Uvalde Lindsey,  Bruce Maloch,  Jason Rapert,  Terry Rice,  Bill Sample,  David J. Sanders,  Greg Standridge,  Gary Stubblefield,  Larry Teague,  David Wallace,  Eddie Joe Williams