Sponsoring legislation to bankroll your employer and to support your job.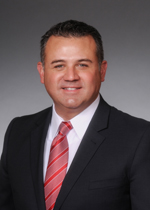 State Representative Lance Eads cosponsored a proposed constitutional amendment that benefits his employer and funnels taxpayer money into the very program he heads for his employer.  
Senate Joint Resolution 16 by Senator Jon Woods and Representative Lance Eads will be on the November 2016 ballot as a proposed constitutional amendment.  Section 2 of the proposed amendment authorizes local governments to give money to private organizations and individuals for economic development projects and economic development services.  The purpose of the section is to overturn a 2015 court decision declaring it unconstitutional for local governments to give taxpayer money to the Chamber of Commerce because of Article 12, Section 5 of the Arkansas Constitution which says:
No county, city, town or other municipal corporation, shall become a stockholder in any company, association, or corporation; or obtain or appropriate money for, or loan its credit to, any corporation, association, institution or individual. (Emphasis added)
While local Chamber of Commerce organizations do some good for their communities, small businesses and grass roots groups frequently find themselves fighting against tax increases supported by their Chamber of Commerce.
Representative Eads is employed by (Insert drum roll) the Springdale Chamber of Commerce, and Eads is employed as the chamber's Vice President of Economic Development. What do you think of the ethics of sponsoring legislation to benefit your employer and to benefit your job? (See Springdale Chamber of Commerce employee list)
Setting aside the ethics issue for the moment, SJR 16 is just bad legislation. 
First, as mentioned above it allows local governments to give away taxpayer money to a private corporation, association, institution or individual.
Second, currently under Amendment 82 the state can pledge no more than 5% of its general revenues to support private large business projects called "super projects". Under Section 8 of the proposed amendment there is NO LIMIT on how much state revenue may be pledged to private super projects. (Theoretically, the state could approve the use of 100% of its general revenues or even more than 100%.) Just one legislature could ruin the state budget and cause the need for tax increases for years to come. (See CFA article: SJR16 of 2015 – How much state money is enough to assist big business with super projects?)
Third, the proposal is deceptive and designed to fool uninformed voters. The Popular Name of the proposal is, "An Amendment to the Arkansas Constitution Concerning Job Creation, Job Expansion, and Economic Development." Who could be against a proposal with that deceptive name?
There are additional problems with SJR16 and CFA will be discuss those in the future.
Taxpayers can't afford to wait until the 2016 election to learn about SJR16. If we wait, we may find our tax money being siphoned off for Representative's Eads employer and other private interests.