HB1181 to end Obamacare Medicaid Expansion fails in House committee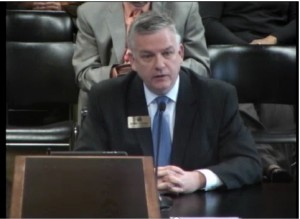 Representative Donnie Copeland's HB1181 failed to pass Thursday in the House Committee on Public Health, Welfare & Labor. The vote was:  Aye: 8, Nay: 10, Not Voting: 2
"NOT VOTING" were Representative David Meeks (R) and Representative Chris Richie (D).  Both were present for most of the discussion, but may have been called to other business near the end of the meeting.
The "AYE" were all Republicans: Bentley, Fite, Hammer, Lundstrum, Miller, Payton, Sullivan, & Womack
The "NAY" were: Republicans: Boyd, Bragg, Branscum, Henderson, & Linck; and Democrats Ferguson,  Love, Magie, Overby, & Wardlaw.
Corrected 2/8/15