Telling a grain of truth to make a HUGE DECEPTION – Jane English – Fact Check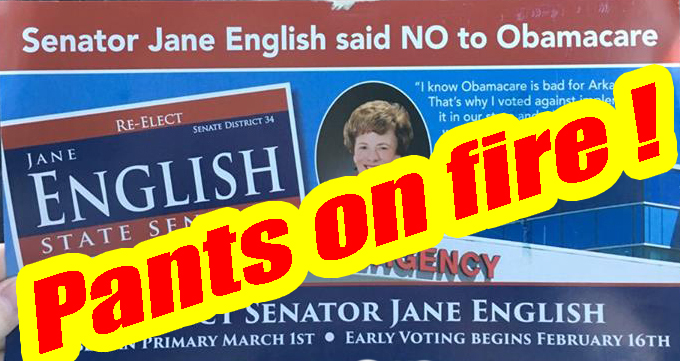 Jane English claims she "said NO to Obamacare." That would be true if we were still stuck in the year 2013 when she voted against Obamacare's Medicaid Expansion (Private Option). But, she has been voting for it ever since!
In 2014, her "YES" vote for Obamacare's Medicaid Expansion was front page news.  She TRADED away her vote to Governor Beebe to become THE DECIDING VOTE to pass continued funding for the Obamacare Private Option.[i]
Here is what the Arkansas Democrat-Gazette said:
Senate President Pro Tempore Michael Lamoureux, R-Russellville, said Tuesday that the Senate has sufficient votes to authorize federal funding for the private option in fiscal 2015, after Sen. Jane English, R-North Little Rock, said she'll vote for the measure after opposing it last year.
English said "a lot of folks are going to hate me" because she switched sides in exchange for what she called "a game changer" for the state – an agreement with Gov. Mike Beebe to restructure and increase funding for the state's job-training programs.[ii]
She thought a lot of folks would hate her.  I don't think that it true… A lot of people were sad to learn she would trade away her votes, and a lot of people don't trust her.  Her deceptive campaign mailer just reinforces distrust.

In 2015 she voted for SB96 of 2015 which created a task force charged to recommend how to continue it after 2016 when the current federal approval ends.[iii]
---
[i] The funding bill was SB111. It was the DHS funding bill being held up by Obamacare opponents in an effort to insert a provision ending Obamacare's Medicaid Expansion.
[ii] Beebe pledge shifts vote, Arkansas Democrat-Gazette, February 19, 2014. http://www.arkansasonline.com/news/2014/feb/19/beebe-pledge-shifts-vote-20140219/
[iii] SB96 of 2015 established a pro-Medicaid Expansion task force to recommend how to continue Medicaid Expansion.  A majority of the membership was appointed by Medicaid Expansion supporters.  The first duty of the task force was to recommend how to continue benefits to the Medicaid Expansion beneficiaries.  SB96 derailed bills that sought to end Medicaid Expansion in 2015, and allowed the Private Option to continue through its original end date of December 2016 (under the 2013 Obamacare Medicaid Expansion Federal waiver.)