Don't tread on me! … except in Arkansas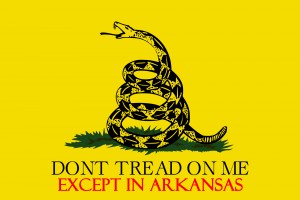 Nationally, Republican voters are rebelling against big government Republicans (often referred to as "establishment Republicans").   The backlash is apparent: (1) political outsiders and candidates who fight the establishment currently lead the polls for Republican nominee for president, (2) Speaker of the House John Boehner, who epitomizes the establishment Republican side, is resigning; and (3) a recent poll shows that Republicans voters feel betrayed by politicians in their Party.
According to a Fox News poll:
"62 percent of Republican primary voters feel "betrayed" by politicians in their party, and another 66 percent say the recent Republican majorities in Washington have failed to do all they could to block or reverse President Obama's agenda."[i]
Critics of "Establishment Republicans" describe them as supporting big government programs and having little stomach for fighting liberal policies of President Obama and the Democrats. They give up without a fight for conservative principles. Establishment Republicans hide behind the fatalistic words, "I have to be pragmatic."
Republicans who value conservative principles and are willing to stand up for those principles are often labeled as "Tea Party Republicans" even if they don't belong to a Tea Party group. They, like Tea Party groups, are staunch supporters of the constitution and of conservative principles, and they are willing to fight for both.
What about Arkansas?
The 2014 elections included notable victories by principled conservative Republicans against both Democrats in the general election and establishment Republicans in the Republican primary. But establishment Republicans are firmly in control in Little Rock, and it appears many of them are likely to be reelected without even having a Tea Party Republican opponent.
Arkansas' establishment Republicans try to placate the Republican base by emphasizing that they are Pro-Life and Pro-Second Amendment.  (As if other Republican candidates might be against these.)
Arkansas' establishment Republicans advancing their big government programs using the establishment mantra of "We have to be pragmatic" and they try to distract voters by claiming conservative tweaks to the big government programs they impose on taxpayers.  Amazingly establishment Republicans have even made their pitch at local Tea Party meetings.
Here are some examples from 2015 illustrating that principled Republicans and Tea Party groups have a lot of work to do in Arkansas.
Common Core Continues. One of the biggest complaints voters made during the elections of 2014 was Common Core in our schools. An effort to repeal Common Core never materialized in the 2015 legislative session because Governor Asa Hutchinson wanted to punt the ball down the field for another two years by creating a task force.  It appears that the only result of the task force will be a name change and make some tweaks to Arkansas' Common Core. In other words, the state would rather go along with Common Core than to give up some federal education money.
Religious Freedom Restoration Act – Watered Down Version. HB1228 concerning adoption of a Religious Freedom Restoration Act was passed by both the House of Representatives and Senate and was delivered to the Governor. Instead of signing the bill, the Governor Hutchinson called for a "do over" with a weaker bill. Tea Party Republicans refused to vote for the watered down version.
Work requirement for Food Stamps waived. Federal law requires food stamp recipients to work but President Obama allowed states to apply for a waiver from the work requirement and Democrat Governor Mike Beebe obtained the waiver so that no work is required in Arkansas. Despite Arkansas now having a Republican administration the waiver remains in place and the welfare roll grows.
Tax Relief Fiasco. A modest tax relief law was passed for middle income taxpayers. That is good news.  The bad news is the way it was handled was an embarrassing mess. Establishment Republicans took a play from the Democrat playbook and adopted an amendment by Senator Bill Sample to give less money back to taxpayers by shifting tax burden to businesses. The amendment took away capital gains tax relief promised by law in 2013.The provision to take away the capital gains relief was amended into the bill and passed out of the Senate the same day. Senator Linda Collins-Smith said there was confusion in the Senate because the amended version was passed so quickly. She and others wanted to change their vote to "No".  So she made a motion to recall the bill by to the Senate to reconsider the vote on the bill.  Her motion failed, with only six votes for her motion.Throughout the legislative session, the business community continued to voice their complaints about the scheme to shift tax burden to them. The mess was finally cleaned up late in the session when another bill was passed to restore the promised capital gains relief. The embarrassment could have been avoided if conservatives had stuck to principles instead of acting out of expediency.
Proposed Constitutional Amendment to remove fiscal restraints. The legislature adopted SJR16 by Senator Jon Woods to propose a constitutional amendment concerning how much state general revenue can be shifted into funding state assistance to big business for their big economic projects. Currently Amendment 82 of the Arkansas Constitution allows a whopping 5% of the state's general revenue to be pledged for such projects.  The legislature is proposing to completely eliminate any fiscal restraint on how much of our tax money can be diverted to such private business projects. How can you divert tax money without tax increases being on the horizon?(This year the legislature approved funding for one project, $87.1 million to assist Lockheed Martin, but it was not spent because the company did not get the federal contract it sought.­ By comparison, a roads group is proposing a wholesale gas tax increase of 10 cents to raise $110 million for highways.)
Continued crony capitalism and pork projects. In January, Governor Hutchinson announced that his budget did not have room for surplus funds for the General Improvement Fund (GIF), much of which goes to fund special projects of individual legislators and projects chosen by the Governor.[ii] But, that pronouncement didn't last long and the GIF received hundreds of millions of dollars.One of the items in the GIF legislation is $20 million for the Quick Action Closing Fund.  This fund was in the news earlier this year when Governor Hutchinson awarded a $950,000 grant to aid the American Taekwondo Association to build a new headquarters.[iii]
Obamacare Medicaid Expansion. In 2013 the legislature passed a huge expansion of government (over 32% increase) by adopting Obamacare Medicaid Expansion (currently called Private Option). Establishment Republicans told us the program was for poor working families but it turns out that an estimated 40% to 46% do not work at all; and the vast majority are able bodied working age adults with no children, not "working families." Since the federal government will not allow work requirements for enrollees, their idea now is to continue to expand government by giving businesses incentives to hire enrollees.In 2015 several bills were filed to repeal Obamacare Medicaid Expansion but none of them were allowed to advance. Instead SB96 (Act 46) by Senator Jim Hendren was represented to the public as a way to end the Private Option at the end of 2016, however, the bill itself acknowledged that the Private Option would end anyway by its own terms at the end of 2016. The bill created a task force with the clear duty to recommend a way to CONTINUE coverage for the Obamacare Medicaid Expansion population (currently called Private Option). The task force then hired a consultant and charged the consultant to make recommendations consistent with keeping Obamacare Medicaid Expansion.  No surprise, the consultant has recommended a continuation of the Private Option (but under a different name-"T-HIP.")  The timing is such that establishment Republicans can seek reelection without having to vote on continued authorization for Obamacare Medicaid Expansion until after the primaries.
Do you want more of the same? That is what you will get from the coalition of Democrats and establishment Republicans.
If you don't want more of the same, are you considering running for the Arkansas House of Representative or Senate? Have you encouraged someone to become a candidate and to fight for conservative principles?
Candidate filing begins November 2, 2015 and ends a week later on November 9, 2015.
---
Also see CFA article: Attention Conservatives – Are your candidates guided by these principles 
---
[i] http://www.foxnews.com/politics/2015/09/24/fox-news-poll-outsiders-rule-2016-gop-field-support-for-biden-nearly-doubles/
[ii] Hutchinson pitches 3% budget lift, Arkansas Democrat-Gazette, 01/28/2015
[iii] In Ho Lee, Arkansas Democrat-Gazette, 06/14/15