Attention Conservatives – Are your candidates guided by these principles?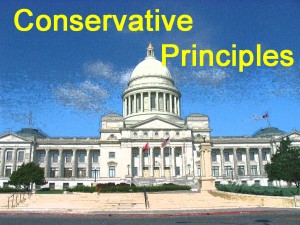 Much attention has been given to presidential candidates, but state and local races are also very important.
If you are an Arkansas Conservative, even if you are not a member of the Republican Party, you should read the 10 principles of the Republican Party of Arkansas.  We think that as conservatives you will agree with these principles.
THE POWER OF FAITH IN GOD
THE SANCTITY OF LIFE
INDIVIDUAL RESPONSIBILITY AND INITIATIVE
INDIVIDUAL FREEDOM AND LIBERTY SECURED BY A LIMITED GOVERNMENT
PRIVATE PROPERTY
LOWER TAXES TO PRODUCE ECONOMIC GROWTH
STRONG NATIONAL DEFENSE
THE PERSONAL RIGHT TO OWN AND BEAR ARMS
THE EQUAL AND JUST ENFORCEMENT OF THE LAW
SEPARATE AND EQUAL BRANCHES OF GOVERNMENT
These principles will serve you well in assessing candidates for public office. If your elected officials (Republican, Democrat or Independent) do not follow these principles, it is up to you to let your opinion be heard.  Only you can hold your elected representatives accountable.
In addition, if you are a conservative who is considering running for a public office, we hope you will be guided by the 10 principles.
Here is the link to the full Republican platform.
Economic Freedom Filter
We also highly recommend the Economic Freedom Filter posted on the Conduit for Action website as an additional standard to judge the actions and promises of candidates.
Recommended filter:
Does it grow government?
Does it increase dependency on government?
Does it spend money we do not have?
* * * * * * * * * *
It is important to keep these principles in mind because the elections are fast approaching and decisions on whether to run for an office or to support someone for office have already begun.
Candidate filing begins: November 2, 2015
Candidate filing ends: November 9, 2015
Party Preferential Primaries: March 1, 2016
General Election: November 8, 2016