Asa says candidates didn't support Obamacare, then says "It's Obamacare"!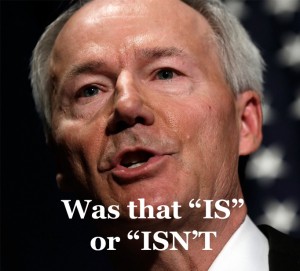 In the span of three days Governor Asa Hutchinson went from saying – there is no truth in the allegation legislators supported Obamacare by supporting his plan,…  to saying IT IS OBAMACARE.
How does the Governor go from holding a big press conference to help incumbents with their "its not Obamacare" deception, to inadvertently throwing the candidates under the bus?
Is it too late for the voters to learn about their big Obamacare deception before the March 1 election?
These candidates in the Republican primary supported Obamacare with their votes: Senator Jane English, Senator Eddie Joe Williams, Rep. Lance Eads, Rep. Ron McNair, Rep. Rebecca Petty, Rep. Jana Della Rosa, Rep. Sue Scott, and Rep. James Sturch.
These candidates voted against Obamacare: Rep. Donnie Copeland, Rep. Josh Miller, Randy Alexander and Debra Hobbs.
(Voting records of these candidates appear at the end of this article.)
PRESS CONFERENCE CLAIM: IT DOESN'T SUPPORT OBAMACARE
On February 16, 2016 Governor Asa Hutchinson held a big press conference to "debunk" the idea that support for expanded Medicaid and his "Arkansas Works" program is support for Obamacare.  He said there is no truth to it.
He had in attendance several legislators who are candidates in the Republican Primary.  They are under fire for passing SB96 of 2015 which created a task force to recommend how to continue Obamacare Medicaid Expansion and under fire for supporting the Governor's "Arkansas Works" program as being Obamacare Medicaid Expansion.   The press conference was intended to help the candidates against the charge that they have supported Obamacare.
SECOND STATEMENT: IT IS OBAMACARE
On February 19, 2016 Governor Hutchinson admitted IT IS OBAMACARE! The Governor made this admission in front of reporters at a breakfast sponsored by the Alliance for Health Reform.
In his speech Governor Hutchinson admitted.
Obamacare is made up of four parts: 1. Individual mandate; 2. Employer mandate; 3. The exchange; and 4. Medicaid Expansion.
Medicaid Expansion is optional for states because of a Supreme Court decision.
The Private Option is Medicaid Expansion.
He supports continuation of Medicaid Expansion.
His program "Arkansas Works" is Medicaid Expansion.
Remember what the Governor said … The Private Option and Arkansas Works are Medicaid Expansion and Medicaid Expansion is Obamacare.
LISTEN FOR YOURSELF
The PAUL HARRELL PROGRAM provided a clip from both events demonstrating the Governor saying opposite things to different audiences in just three days. Please listen here: https://soundcloud.com/paulharrell1776/gov-hutchinson-admits-arkansas-works-is-obamacare
PRESS REMAINS SILENT
How does the press attend both events, but only report on the one where the Governor claims it is NOT OBAMACARE while ignoring him ADMIT IT IS OBAMACARE? Since the press is not doing its job – please share this article.
The Primary Election is next Tuesday, March 1. With the Governor's help, a number of incumbent legislators are still pretending their votes were not pro-Obamacare.
WHICH CANDIDATES IN  THE REPUBLICAN PRIMARY SUPPORTED OBAMACARE ALONG WITH THE DEMOCRATS
Click chart to enlarge