Arkansas embraces Obamacare with development of a state-based Obamacare Exchange while Republicans in Congress and others try to end Obamacare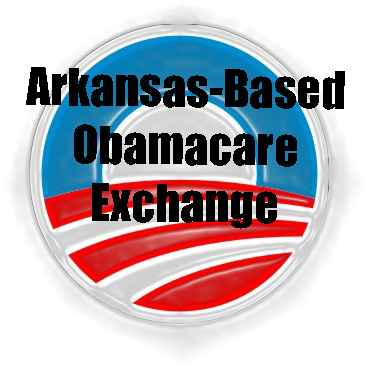 Republicans in Congress are looking to repeal Obamacare or to chip away at it to bring it down. Many states are helping in this fight by continuing to refuse to pass Obamacare Medicaid Expansion.  And a large majority of states have refused to create a state-based Obamacare Exchange.  Several cases have made their way to the United States Supreme Court to try to derail Obamacare by attacking federal tax credits made through federal exchanges.
Meanwhile Arkansas embraced Obamacare with both arms by adopting Obamacare Medicaid Expansion in 2013 and continuing it in 2015, and by passing legislation in 2013 to set up a state-based Obamacare Exchange.
Arkansas' Obamacare exchange law and how it undermines the effort to bring down Obamacare
King v Burwell and related cases (Halbig v. Burwell, Pruitt v. Burwell, and Indiana v. IRS) have the potential to bring down Obamacare, but an Arkansas-based Obamacare exchange will help undermine that effort.  The Patient Protection and Affordable Care Act (you know that bill that Nancy Pelosi wanted Congress to pass to find out what is in it) included federal tax credits for people who buy health insurance off an exchange "created by the state".  When a large majority of states refused to create an exchange the federal government stepped in to create a federal exchange, and the IRS decided that people who buy insurance on the federal exchange also qualify for the tax credit. A lawsuit was filed to challenge tax credits to those who purchase insurance from a federal exchange.
Why is King v Burwell etc. seen as a way to bring down Obamacare?  With only a few states having a state Obamacare exchange the cost of Obamacare insurance without the subsidies would become uneconomical in the large majority of states.  Also, if the Obama administration loses in King v Burwell etc., then states without a state run Obamacare exchange may also escape the Obamacare individual and employer mandates and avoid taxes that support the exchange. It is thought that the failure of Obamacare would bring the issue back to Congress where Obamacare could be repealed, replaced or at least the worst parts dismantled.
If the Obama administration loses the case and only states with a state-based Obamacare Exchange qualify for tax credits, ARKANSAS will be one of the few state to qualify for the tax credits, AND Arkansas may be one of the few states that will be subject to the individual and employee mandates and taxes. In such an event Arkansas will be one of the few states helping to keep Obamacare.
Act 1500 of 2013 established a legal entity named the Arkansas Health Insurance Marketplace and gave its board the authority to move Arkansas from the federal exchange (partnership) to a state-based Obamacare exchange.  The board voted to do just that.  It applied for a federal grant for startup.  While the Arkansas legislature left the issue on the back burner, the board has been moving at full speed and recently (2/11/14) hired a firm for almost $7.2 million to provide technology for Arkansas' state-based Obamacare Exchange and to run it through February 2018.
We expect argument for the Arkansas Obamacare Exchange to include:
If the Obama administration loses the King v Burwell cases, Arkansas needs to have the state-based exchange so our citizens will qualify for tax credits.
ANSWER: This also means you approve of the Obamacare mandates on Arkansas citizens and the taxes authorized to support Obamacare.
It is too late to stop. We might have to pay money back. We've already accepted a nearly

$100 million federal grant for startup and hired a firm for $7.2 million

. 
ANSWER: It is NOT too late to stop.  For example, Oregon dropped its $300 million exchange[i] and Nevada gave up on $91 million exchange[ii].
THE SIMPLE ANSWER IS TO MERELY REPEAL ACT 1500 OF 2015.  Some may want to just tweak the legislation or to keep the board in place, but why waste more money?
(SB343 says it wants to stop a state-based exchange. Since it is a shell bill, without substantive provisions, it is too early to say whether it will be a repeal of Act 1500 of 2015, or merely tweak the law to leave some parts of the Obamacare exchange law in effect, or even whether the bill will be filled out with substantive provisions.)
Arkansas tends to think of the federal grant money for setting up the exchange as free money, but it is our money as taxpayers, and worse than that– it is China's money.  And taxpayers will have to pay it back plus interest!  Once the state-based exchange gets running, it is Arkansas' responsibility to pay for the exchange with taxes imposed on the backs of Arkansans.
Note: Even now while the state is still in a Federal-State Partnership Health Insurance Exchange, the state is proposing to appropriate $39.7 million dollars in federal (our) money for the current exchange. $1.3 million of the appropriation is for salaries. We don't need this.  The state legislature will be voting on this appropriation, which is Section 24 of HB1152. It only takes just over ¼ of either the House or Senate to stop this appropriation. (The House may consider the bill as early as 2/17/15.)
Some states are doing everything they can to end Obamacare, but so far, Arkansas has done everything it can to embrace Obamacare with its mandates, taxes, and costs.
[i] http://www.politico.com/story/2014/03/obamacare-in-oregon-a-failed-exchange-105189.html
[ii] http://dailysignal.com/2014/05/28/nevada-gives-91-million-obamacare-exchange/