100 Years Ago in the Arkansas Legislature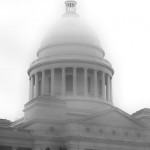 While doing research on Sharp County history I ran across an article from 100 years ago.  Not much has changed. Arkansans are still fighting unpopular legislation.
This newspaper article is from the January 22, 1915 issue of the Sharp County Record.
WOULD REPEAL HEALTH LAW
The first bill introduced by Representative J.M. Street in the present legislature asks for the repeal of Act. No. 96, passed by the legislature of 1913, known as the Public Health Law, insofar as that law relates to Sharp County. The public health law has proved a very unpopular measure in this county, the opposition to it being so strong that to put the act in operation here has been an impossibility. The repeal of the act so far as it relates to this county would, it is safe to say, meet with almost unanimous approval throughout the county. It is worthy of notice also that a number of other counties are seeking to be exempted from the provisions of the public health act.